Please send your check donations to the following address:
Project Left Behind
3525 Del Mar Heights Road #728
San Diego, CA  92130
Aishworya has housed up to 45 children at one time. Many who have come to stay have subsequently been reunited with their families. For however long the children are in the care of Aishworya, we aim to provide them with a caring environment and as much love and support as we have to give.
Aishworya aims to provide the following things for the orphaned and abandoned Nepalese children in our care:
A safe, loving home environment.
A good education.
Regular balanced meals, clothing, shelter, and a sense of community.
A safe play area and the opportunity to develop skills of social interaction with the other children.
Teaching the children basic life skills such as cooking, washing clothes, personal hygiene, and cleaning to help them later in life.
Providing opportunities for future development through encouraging interests and skills and providing vocational training where possible.
Aishworya's primary concern is always the welfare of the children who live with us, but we are also interested in the wider social impact of the work we do, which is why we don't just take over the care of individual children. Where possible, we also work with struggling parents and families to provide the support they need to look after the children themselves.
We want our kids to understand the importance of contributing to social causes, so we organize public awareness events and blood donation programs where everyone at Aishworya can participate and learn more about the world around them.
In 2003, Nirmala Ghimire found two boys on the streets in Balaju. Their names were Jeetu (10) and Arun (8) and they were dirty, hungry, homeless, and crying. Arun was very sick, so Nirmala took them first to the hospital and then to her home.
After the local authorities placed the boys in an orphanage, Nirmala continued to visit them. A month later, she found two more brothers in Chamati, Jack (9) and Andy (3). Nirmala took them to the same orphanage and continued to visit them and bring food and comfort.
A year later, the owner of the orphanage had a heart attack and the children were all moved to different orphanages. The new orphanage the boys were moved to was completely different; the children there were badly neglected plus the house aamaa (live-in mother) beat them regularly and they weren't properly fed or cared for.
When Nirmala was at the hospital one day, she met Biru (6) and Sani (4), looking lost and frightened. Their uncle had been bitten by a snake and was severely ill, but there was no one else to care for them. Nirmala offered to look after them for a while until their uncle was better. At this point she realized she would prefer to look after the other four boys herself rather than leave them in such a bad orphanage, so she took them in and decided to set up her own children's home.
Nirmala quit her job as a driving instructor and sold her land in to pay the rent on a new property and provide for the children. Now, Nirmala's daughter, Primila, runs the orphanage.
Pramila Ghimire, assistant director of Aishworya in Nepal, reports that the 50 children who live there —ranging from 3 to 16 — are very well mannered and in a good health. All the children attend school, speak very good English and are helpful to one another. Pramila says it's very much like a normal family, as the children call Aishworya "home," and create art, sing and dance, among other things. Interestingly, not all the children who live here are orphaned; some have parents, but due to difficult situations like neglect and violence, they unfortunately cannot live with them. After the 2015 horrific earthquake that struck Nepal, 10 new children came to live at Aishworya. These angels have adjusted well and are getting the love and comfort they need. Four new children joined the home in October. The transition is never easy, but Pramila is happy to report that their newest "family members" are adjusting to their new lives. 
From Aishworya – "We are very grateful to anyone who is able to donate, including those who can provide one-off gifts as well as those who are able to provide regular  support. If you feel you might be able to contribute, have a look below at what a regular monthly donation would be able to provide for the children living in Aishworya.
At present we work very hard to take care of the children, but we are still unable to provide them with the level of care we would like. We are therefore still looking for more permanent funding to support the children's education and development in the long-term, as well as donations to cover our day-to-day running costs such as food, rent, clothes and bills.
Below is a cost breakdown in GB pounds sterling (and US dollars) of what different levels of sponsorship will provide for the children at Aishworya:
£2 (or $3.13) a week will provide a child with a safe space to live in, equipped with light, heat and clean water
£7 ($10.95) a month will supply the standard Nepali meal of rice and lentils to feed one child for a month.
£14 ($21.90) a month would add milk, meat, vegetables, fruit and eggs into that diet.
A one-off donation of £19 (that's $30) would pay the fees to send one of our children to school for a year.
£19 ($30) a month would cover all their educational needs and contribute towards the cost of feeding, clothing and caring for them as well.
£31 ($48.50) a month will cover the cost of necessary medication for all the children, or enable us to keep Aishworya supplied with electricity and clean water for that month.
£65 ($102) a month will pay the school fees for all the children at the local school (that's £1.55 or $2.42 per child), which works with Aishworya to provide our kids with the best possible care.
£96 (or $150) a month would pay for:
A third of the costs of living for all 42 children
OR
A sixth of the cost of either food or schooling for all 42 children
OR
All the cost of providing healthcare and medicine for all 42 children
Finally, the cost of sponsoring one child for a whole year, including their food, education and living expenses, is around £288 – that's $400 – per year."
Project Left Behind's goal it to continue supporting this orphanage and these children for the remainder of their school years.  Your donation is so important in helping us reach our goal.
A financial donation of $20 can buy the shoes of 5 children
A financial donation of $50 can buy enough rice for one month
You can see more about what is happening at Aishworya at http://www.aishworya.org!
Updates from the past few months
Shoes!  Shoes were delivered thanks to our amazing donors!
Kalpana Bastakoti, one of Aishworya's elder daughters, has finished her bachelor's degree in economics, and passed a Nepal Education Service Commission exam. She has now been appointed as a primary teacher for a community school, starting on October 23. We heartily congratulate Kalpana on her achievement and wish her a successful life ahead. We also thank all our friends for supporting Aishworya; this wouldn't be possible without your love, support, and kind wishes.
Meet Bhangwati Karki!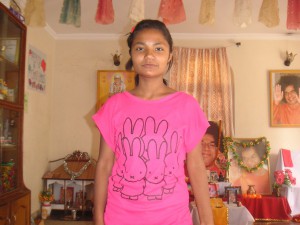 Namaste! My name is Bhangwati Karki. I am 16 years old. I've lived in Aishworya for the last 10 years. I was rescued from child trafficking; Nirmala Ama brought me to Aishworya and gave me a new birth. I am very happy to live in Aishworya. I am in high school now. My favorite subject is English. I love to look after the younger kids; I want to be a social worker. I love to listen to Beyonce, who is very beautiful.
Celebrating Fundraisers!
We have been so impressed by the way our friends have raised support for us over the last few years, money that goes toward the children's food, education, medical needs, books, and toys – all vitally important to providing the vulnerable, abandoned, and unhappy children who come to us with a loving, caring environment, and helping them to grow up into happy, healthy adults, with a strong sense of family, community, and purpose.
In case you haven't seen, we've updated our fundraising page with more of the fantastic work that has been done by our supporters. This time we have the two very different stories of Mark Mariotti and Danielle Livolsi, who both found Aishworya online! Have a look at their stories. We are so grateful to Mark and Danielle for the work they have done for us.
We'd also like to thank…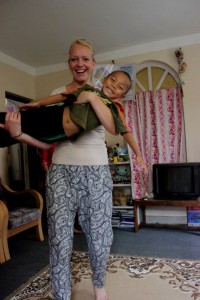 Sofia Zoon (The Netherlands, pictured right with Bibek), who volunteered through IDEX and fundraised to support us with bunk beds, medicine, school bags, HIV tests for our new children, stationery, and toys.

Rosin (Ireland), for providing umbrellas during the peak of monsoon.

Marion, Rafael and Capucine, who visited for a week and provided toys, clothes, a donation, and a wonderful trip to the zoo for the children.

Margherita, who visited with her family. Pro-Nepal is one of our very good friends and we thank them for their continuous support.
And, hearty thanks to all our friends for their ongoing support through gifts, donations and kind wishes. If you'd like to make any kind of contribution or send good thoughts or ideas, you are always welcome.
Thank you from the bottom of our hearts!
-Danielle Dietz-LiVolsi
President
Project Left Behind
2015 Project Goal: $10,000